Personal Message From Matt Bacak's Mother
Dear Friends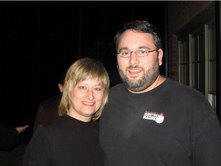 This letter is about my son, Matthew David Bacak, and his precious life.  God blessed his Dad and I with our first born on December 31, 1977.  He came into this world on a snowy wintry Ohio day.  That seems like yesterday and this year he is celebrating his thirtieth birthday.  Matt has overcome a lot of challenges throughout his thirty years.
Matthew was an achiever even as a little baby.  He did not want to be on the charts of normalcy and challenged me with his adventures even in his first year of birth.  He crawled early; walked by six months; and was frustrated to want to learn, touch and be more than just your normal little guy.
Fast forward to elementary school…When his second grade teacher called me to say that he was having a hard time reading and focusing on subjects, she suggested I have him tested for a learning disability. In those days, you took them to a psychologist, run a battery of tests including blood and eye tests.  Our frequent visits concluded that Matt had dyslexia.  They wanted to place him on medication and we refused.  His Dad and I held him back in school that year and decided to do whatever it took to teach him how to compensate for his "stamped by doctors" learning disability. They also included with a high IQ. We believed the latter part.
In the early 1980s, there was not all the studies being done and this dyslexia diagnosis was a new phenomena. I read every book that I could get my hands on for instance,"Unicorns are Real" and Montessori education books.  Ideas were implemented –buying color cellophane and place it over the book so his brain could receive the information on the side that was needed; another was turning his book upside down and another was trying to determine what type of learner he was….touch; write; listener.  This is how we supplemented his pubic school teaching for him to learn.  When the school wanted to categorize him in a classroom setting and place him in a learning disability class, I would tell them no.  I did not want him placed in a box and we would work with him at home. We had to place our fist on a few desks over his school years and refuse their wishes.
We tape recorded books and creatively taught mathematics and other analytical subjects.
During his sleep, I would play positive thinking tapes.  Yes, his Dad and I decided to retain him in second grade but our thought was to re-organize and move him to a smaller school environment where he would have more one-on-one help.  At times even in college, I would read him his subjects or tape record items for him to listen to for absorption of knowledge.  Matthew is a walking testimony to overcoming dyslexia obstacles. Where is the credit? In himself! He worked along with us, his co-partners and parents, to not take what others had determined was his label and meet the challenge of compensation for this blip.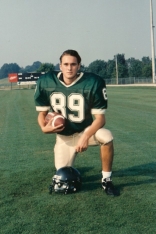 Our move from Ohio to Pelham was another test.  Moving in his sophomore year in high school from one with 98 to 450 graduate students was a new journey.
Matthew was a social guy, a popular football player and very well liked in his Ohio school. His dad's job transfer was sort of, you might say, a crushing blow.  If you have moved as most of our society has in these years, it takes time to re-adjust:  to leave behind your family and friends; to enter into a new environment.
After the initial shock of our relocation, Matt created his new circle of friends, worked hard at employment opportunities to make enough money to go back to visit Ohio and found his own niche in his Alabama school.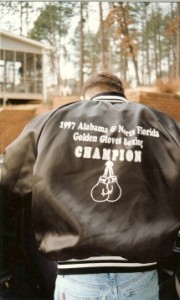 His boxing, football and wrestling became his outlet.  Many of you know that his hard work paid off and he became the Alabama Golden Glove Champion.
Matthew has always been one to pull himself upwards in times of struggle and knew that the next moment will bring goodness in life.  I'll never forget the time that he called me from college that he had just placed $20,000 in stock fund and he was just about to loose everything. The stock market had dropped.
Now me, I was more than disheartened and I am sure he was in a way.  His tenacity and research rewarded him.  Instead of taking it as a negative, he changed it into a positive experience through altering his focus, moved the piddlings of money and rose above the uncertainty.
His childhood dreams of making a million by the time of thirty have long been achieved.
In retrospect, every step he took prepared him for his next experience in life. For his first business, he made pamphlets; marketed himself and when three people showed for his program, he did not sit down in despair but plugged onward to his next adventure. I was one of this three people on his first tale-call but he was not troubled by the small response.
As you know, he eventually filed bankruptcy. I will never forget that day as long as I live. To watch your child face something knowing that you could not fix it was quite difficult. He had given everything he had in his business and faced adversity that brought him to a low point in life. That day as we hugged my words to him was — Take this as a life lesson. You can let this take you down or you can analyze what happened and rise above this misfortune. His fire stayed lit and his ideas flowed.
Throughout his growing up years, we would tell him Matthew the very two things in life that no one can take away from you is your salvation and your name. Live life and know that these two will be with you forever.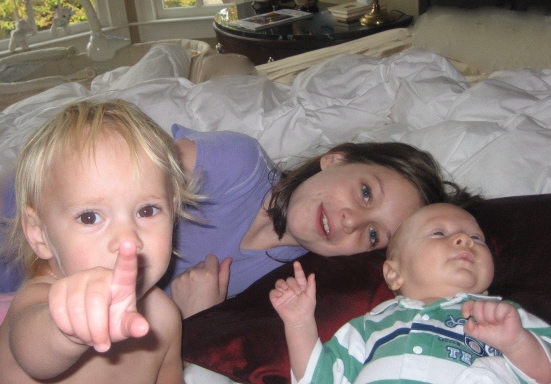 These are my Grandchildren – Matt's Kids

I share with you from the bottom of my heart that ups and some downs in his life.
God blessed him with his wife, Stephanie. Matt's weaknesses, she covered. They became a team.  The rest of their business is history. His dad and I have watched their businesses flourish. The two of them put aside adversity and strive to reach their goals.  Most of all, Matt is a wonderful husband and father. We have three beautiful grandchildren and as I said before, the rest is history.
To his friends, business partners and clients: You have been wonderful not only to them but us.
Thank you.
Sincerely,
Matt Bacak's Mom.